Scouting/Guiding
Scouting/Guiding is our educational platform – because it is the most widely tested method to turn today's young people into tomorrow's leaders. During more than 100 years, over one Billion people have taken an average of three years 'Scout/Guide Training'. Today more than 500 Million adults benefit from their Scout/Guide training, while working in almost any profession in business, community and civil society. These people make a significant positive contribution to the world every day, many serving in jobs crucial to education, health, economic development, environmental protection and peace.
The Scout/Guide Method and how it works
Young people in Tunisia become tomorrow's entrepreneurs not by listening to lectures in a classroom, but by working together building real businesses. Young people in Haiti or Nepal take charge in disaster response, not by talking about it, but by clearing rubble and providing temporary shelter for people in real need. Young women in Sri Lanka and other countries address gender inequality not by talking to local authorities, but by becoming financially self-sufficient entrepreneurs. Thus, through Scouting/Guiding, young people become responsible citizens recognizing challenges, taking the lead, taking action to solve problems, and making the world a better place. The Foundation is proud to work with this movement. It is already there, it has great impact, but it can do so much more.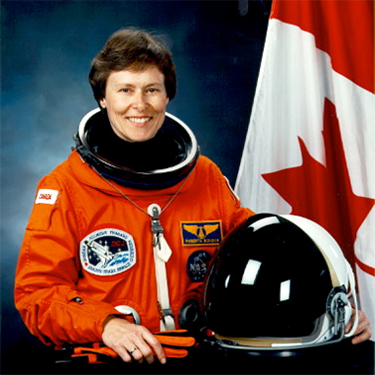 Roberta Bondar, Woman in Space
Scouts take prominent roles in entrepreneur-ship and adventure. 70% of all female business leaders and women entrepreneurs in the US have been Girl Scouts.
Almost all US and Canadian astronauts (women and men) have been Scouts.
Well-known, outstanding Scouts
Many leaders from government, business, civil society, arts and sports have been Scouts as children and/or have taken major roles in Scouting as adults, including Heads of State and government leaders including HM Queen Elizabeth II and HM King Carl XVI Gustaf, Nelson Mandela, Desmond Tutu, US presidents John F. Kennedy, George Bush Sr. and Jr., Bill Clinton and Barack Obama, President Vigdis Finnbogadóttir, USSecretaries of State Madelaine Allbright, Condolezza Rice, Colin Powell and Rex Tillerson, and numerous EU comissioners including Margrethe Vestager and Connie Hedegaard. Business leaders such as Bill Gates(Founder Microsoft), Virginia Rometty (IBM CEO), Susan Vojcicki (Youtube CEO), Indra Nooyi (CEO PepsiCo), Sheryl Sandberg (Facebook COO) Randall Stevenson (AT&T CEO, James Turley (Former CEO EY) and many others. Leaders in civil society such as former UN Secretary General Ban Ki Moon. Leaders in arts such as Steven Spielberg. Leaders in sports such as Venus and Serena Williams.